March 2023

Dr. Ing. Simon Wurzbacher & Dr. Ing. Julian Schild
Optimized Flow Control with Synventive Dynamic Feed for Family Molds:


"One Tool, One Shot, Three Parts"
Family molds offer great potential for reducing costs. They are able to produce several components with different sizes and wall thicknesses in one shot. The challenge lies in the design of the molds and the process control. Synventive solves this task with a cavity-independent pressure control.
The term "family mold" has been used in toolmaking for decades. In contrast to multi-cavity molds, where the focus is on the quantitative scalability of manufacturing identical parts, different parts are placed in one parting plane of a family mold and completed in the same injection molding cycle. One option is that a complete assembly can be removed from the family mold and assembled directly. The following distinction is made for the potential parts of family molds:
mirrored parts

parts that will be joined to form an assembly later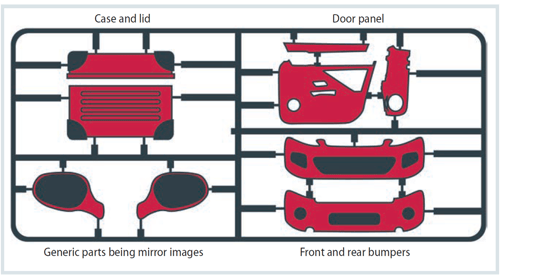 Examples of mirrored parts are the side mirrors or scuff plates on cars. One example of a combined assembly from an automotive application is the door trim panel assembly, consisting of the waist rail, map pocket, and trim panel. Other typical applications are parts with identical or similar functions, such as a housing or the front and rear bumpers.
In contrast to conventional manufacturing of injection molded parts in individual molds, only one injection molding machine is used, saving space and usually allowing for parallel production, reducing the cycle time, and generating lower running and setup costs.